Last night, after the kids went to bed, I decided to watch the beginning of Hitchcock's Shadow of a Doubt. This was a tactical error, as I have never in my life managed to watch part of a Hitchcock film.
Shadow of a Doubt tells the story of young Charlie Newton, played by Teresa Wright, as she suspects her beloved Uncle Charlie (Joseph Cotten) of some dark secret. The suspense comes in when he realizes she knows things he wants to keep hidden. The supporting cast, particularly Patricia Collinge as Mrs. Newton and Hume Cronyn as the nosy neighbor, were quite good, selling the world of the film. But it is the relationship, the tension, between the two Charlies that drives the film forward.
One of the things I find most fascinating about the films of the 30s and 40s is the presentation of romantic or sexual relationships. Not only were the mores of the time different, the Production Codes hampered filmmakers. Describing the complexities of adult relationships required a code — which audiences of the time could decipher. I find myself on murkier ground when I watch these films.
Yet Shadow of a Doubt doesn't run into Production Code issues. All the relationships are either sanctioned or criminal, so it's pretty straightforward. No, what I find confusing are the standards of the time. I blinked, wondering if I was reading the scene right, when young Charlie — a high school girl, perhaps 15 years old — and the much older detective Jack Graham are flirting. It turns out I was right, they were flirting, and, moreover, this courtship is condoned by everyone. There's somewhere around a fifteen year age gap, there. But a high school girl of the era was expected to marry, and a stable older man with a decent job was a good catch.
The relationship between Charlie and Uncle Charlie is more subtle, more nuanced, and more complex. Her worshipful adoration of him seems perfectly appropriate, and his initial fondness is avuncular. But the ring he gives her? I'm stymied. It seems a bit . . . much, a bit romantic, for the relationship. Am I just reading the scene wrong? Or is it supposed to be a bit off? At this point in the film Uncle Charlie's guilt or innocence is not established. Is the ring-scene supposed to make us feel uneasy or not? Later, Charlie seems to take pleasure from the fact that her friends presume Uncle Charlie is a beau. This strikes me as perfectly appropriate — that a teenage girl with an attractive older relative might harbor some romantic fantasies about same. But I can't tell from the scene of Uncle Charlie is encouraging this or not.
It's odd.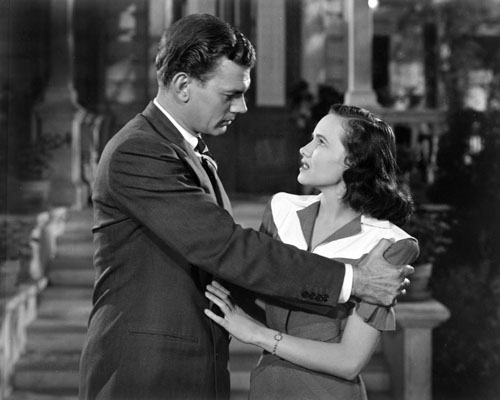 Later on, after the secrets are out and the game of cat-and-mouse is in full swing, the affections and possible romance of the earlier scenes is twisted into betrayal and a trapped sort of anger. Teresa Wright does an amazing job with these scenes — Charlie's ideals, her faith in people, her trust in herself and her judgment are all in pieces around her. It's a fine performance.
Addendum:
According to Wikipedia, Teresa Wright was one of the few early people to hold a line with the studio system. She had a five-year contract with MGM, yet she managed to get the following clause into her contract:
"The aforementioned Teresa Wright shall not be required to pose for photographs in a bathing suit unless she is in the water. Neither may she be photographed running on the beach with her hair flying in the wind. Nor may she pose in any of the following situations: In shorts, playing with a cocker spaniel; digging in a garden; whipping up a meal; attired in firecrackers and holding skyrockets for the Fourth of July; looking insinuatingly at a turkey for Thanksgiving; wearing a bunny cap with long ears for Easter; twinkling on prop snow in a skiing outfit while a fan blows her scarf; assuming an athletic stance while pretending to hit something with a bow and arrow."
Fascinating.
Filed under: MoviesTV, Review | Tagged: joseph cotten, production code, shadow of a doubt, teresa wright | 8 Comments »